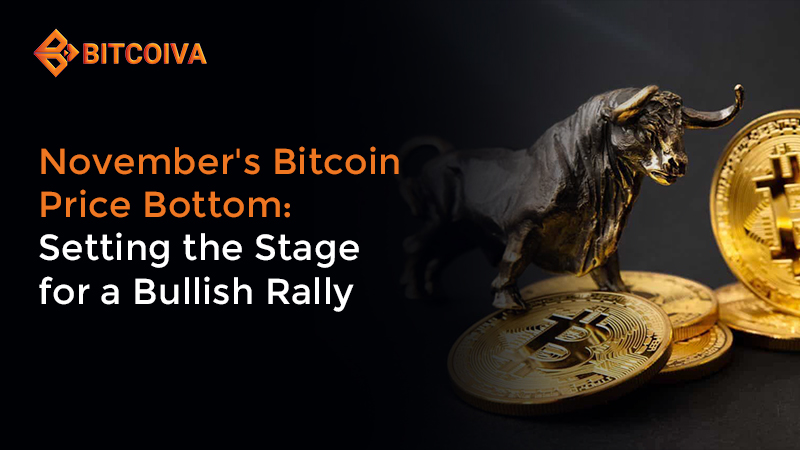 Recent analysis suggests the possibility of a Bitcoin (BTC) price upswing, drawing parallels with historical patterns where sideways trading often preceded bullish surges. Analysts and traders closely monitor Bitcoin's upcoming halving event, expected in late April or early May 2024, and historical price movements to anticipate future trends.
On October 10, a seasoned crypto analyst compared the current patterns to those seen in previous cycles, highlighting similarities in BTC's price action from the second to the fourth quarter in pre-halving years.
Notably, November 21 was historically a pivotal date when BTC initiated its upward trajectory, leading to halving events. This observation aligns with the findings of another crypto trader and technical analyst, who pointed out that BTC is trading at approximately 60% below its all-time high, akin to its positions in 2015 and 2019 around 200 days before scheduled halvings.
A Look at Bitcoin's Performance 200 Days Before Previous Halvings:
In 2016, BTC was -65% below its all-time high.
In 2019, BTC was -60% below its all-time high.
In 2023, BTC is presently -60% below its all-time high.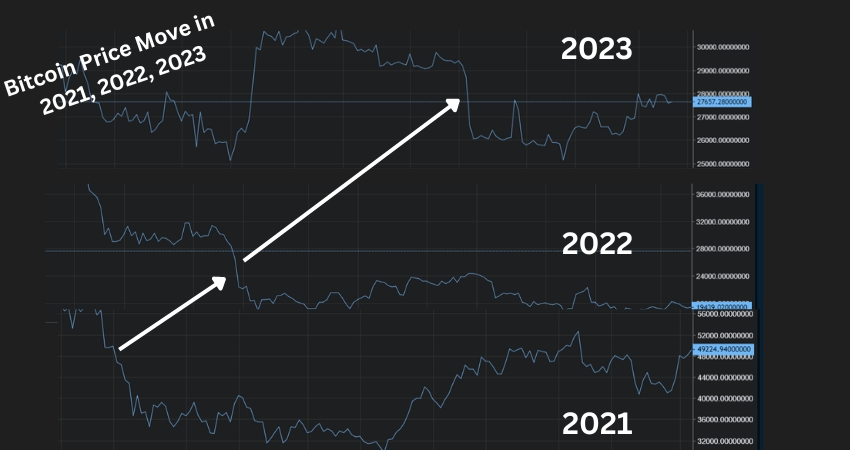 The projection shows the potential "dump" or price bottom for Bitcoin around November 10-15, corresponding with historical patterns.
The Projections are made from Bitcoiva, the best crypto trading platform in India. The comparisons shows that there is a bullish run ahead.
Markus Thielen of Matrixport also anticipates a surge in BTC's price going into 2024, citing critical macroeconomic factors such as the Federal Reserve's rate hikes as significant influencers on Bitcoin prices. The consensus among analysts suggests that the next major bull market is expected to unfold in the year following the Bitcoin halving. However, market behavior leading to this event requires cautious interpretation and navigation.
The crypto trading market is currently influenced by various global events, including the ongoing conflict between Hamas and Israel and a significant sale of ether (ETH) by the Ethereum Foundation. These events have added pressure to the market, resulting in over $100 million in futures positions being wiped out as the market declined by an average of 2%.
Bitcoin has shown relative stability compared to other tokens, losing just 1% over the past 24 hours and maintaining support above the critical level of $27,500. Analysts are specifically monitoring a potential break of the $28,000 level for BTC before adopting a bullish stance. In contrast, Ether (ETH) experienced a 3% decline following the Ethereum Foundation's $2.7 million token sale, raising concerns among traders and resulting in ETH bulls losing over $30 million on October 9, 2023.
Other cryptocurrencies, including Solana's SOL, XRP, and Cardano's ADA, have also witnessed declines of nearly 5%, 3.7%, and 3.4%, respectively.
The crypto market in India is navigating a period of speculative anticipation and prudent caution as global events, anticipation of the halving event, and historical patterns converge. Traders and investors closely observe emerging trends and positions in the coming months.
Visit us at: www.bitcoiva.com