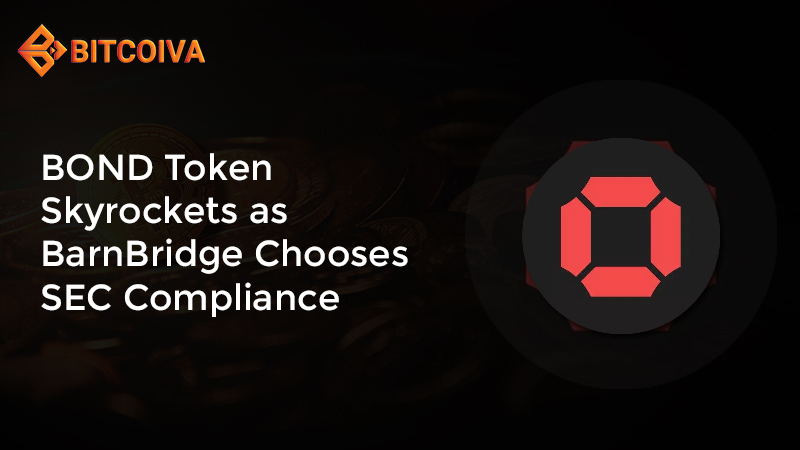 BarnBridge (BOND) is a tokenized risk protocol that gives users tools to hedge against price fluctuations and volatility in decentralized finance (DeFi). It achieves this by interfacing with debt pools on other DeFi platforms and creating various assets within a single debt pool. These assets are transformed into tradable tokens that expose users to potential market volatility.
The BOND price had a significant increase recently. There was a vote on the altcoin's decentralized platform, and they decided to come to an agreement with the SEC and pay any required penalties. When news of this agreement broke, the BOND price shot up unexpectedly.
BarnBridge's BOND token witnessed a significant price surge, more than doubling in value, following indications that the defunct crypto derivatives project was willing to comply with undisclosed demands from the U.S. Securities and Exchange Commission (SEC).
During this rally, the token traded at $4.20, sustaining a two-day uptrend that drove the governance asset (BOND) to its highest price point since May.

In Bitcoiva, the best crypto exchange platform, the chart projects the bond protocol's price moves uptrend on Oct 14, 2023 and reaches its highest price of 490 INR. It shows selling signal on Oct 15, 2023 as 600 INR. Now, the current price reaches 363.031 INR. As its price jumps, it will be added into the Binance listings. Analyst says that the price will be uptrends in future, due to its agreement with the SEC and agreed to pay any required penalties.
Key features of BarnBridge include:
Multiple Asset Pools: BarnBridge allows the creation of multiple assets within a single debt pool, each with its risk and return profile. This flexibility empowers users to choose the level of risk that suits their investment preferences.
Senior and Junior Tranches: Users can invest in senior and junior tranches. Senior tranche investors receive fixed interest payments, offering stability and predictability. On the other hand, junior tranche investors can earn higher interest rates but are not guaranteed fixed payouts. This design enables users to tailor their investments to their risk appetite.
Important details about BarnBridge:
Launch Date: BarnBridge was launched in September 2020.
Founders: Troy Murray and Tyler Ward are the co-founders of BarnBridge.
Blockchain Protocol: BarnBridge operates on the Ethereum blockchain.
Native Token: BOND serves as the native token of the platform and plays a governance role.
Market Cap: The market capitalization of BOND, at the time of the provided information, was approximately $35.93 million. It's important to note that cryptocurrency market cap values can fluctuate rapidly.
Token Type: BOND is an ERC-20 token that also holds governance functionality.
Circulating Supply: The circulating supply of BOND tokens was around 7.91 million at the time of the information.
Total Supply: The total supply of BOND tokens is set at 10 million.
Consensus Method: BarnBridge utilizes a consensus mechanism based on Proof-of-Stake.
BarnBridge operates as a groundbreaking tokenized protocol designed to mitigate the inherent risks within DeFi. Its core functionality enables users to tailor their risk exposure using tokenized, liquid tranches. BarnBridge achieves this through two key products: SMART Yield and SMART Alpha.
SMART Yield: This integral component of the BarnBridge platform empowers users to earn interest on their holdings. Users deposit stablecoins into the protocol, and in return, they receive Yield in the form of cryptocurrency equivalent to the interest generated. Here, users have the choice to allocate their stablecoins into two categories:
Senior Pools: These pools offer relatively lower yields with reduced risks, prioritizing the safety of the investment.
Junior Pools: In contrast, Junior Pools promise higher potential for profit but come with higher risks, which can also translate into greater opportunities for losses. These pools are ideal for users seeking more significant returns but are willing to accept the associated risk.
SMART Alpha: SMART Alpha operates on a similar principle as SMART Yield, but it focuses on tokens built on the Ethereum blockchain. Users can participate in these pools to earn interest while selecting the risk profile that suits their investment objectives.
Additionally, the BarnBridge ecosystem features its native token, BOND, which plays a pivotal role as a governance token for the BarnBridge DAO. The DAO governs and makes decisions regarding the operation and development of the network.
How to Buy BarnBridge in India?
To buy BarnBridge in India, follow the below-mentioned steps:
Download the Bitcoiva App on your Smartphone
Enter the details required for registration.
Complete KYC.
After your profile is verified, fund your wallet and buy BOND.
Visit us at: www.bitcoiva.com