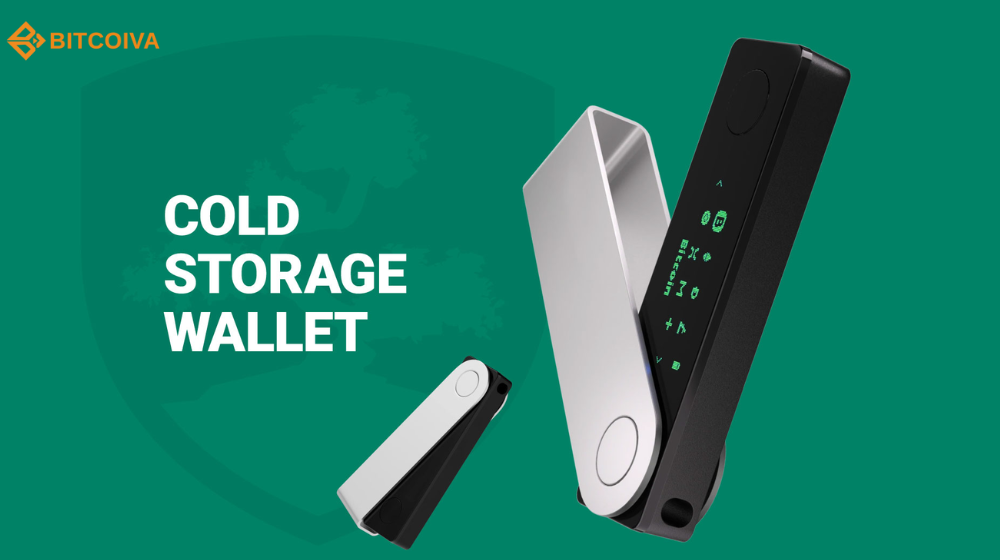 In general terms, cold storage refers to a place where we can preserve things long-term. In the world of cryptocurrency India, a cold wallet offers investors a means of safeguarding their digital assets over the long term in a secure manner. You can think of cold storage as the digital means of storing gold virtually safely with security measures. Today, we will elucidate this tricky concept of cold crypto storage and the best available options so that you can buy cryptocurrency in India and store your coins with maximum safety.
Cryptocurrency is stored offline in cold storage. Every crypto wallet has a private and public key for Bitcoin or other crypto coins. The public key refers to the address people use to send the coins. The private key is like a secret key and gives you access to the coins for withdrawing and spending them at will. Cold storage protects your cryptocurrencies from hackers or malware by making them inaccessible to the Internet. If a thief tries stealing the hardware, you can prevent him from accessing your funds by setting a PIN code. It also allows you to get your funds back by using a backup code or recovery phrase, even if it falls into the wrong hands.
You can transfer your cryptos to your cold wallet without an internet connection. You can hide the cold wallet securely like a bank deposit box. Now that you have understood the basics of cold storage let us look at the different types of cold storage in crypto buy in India and store all your cryptos.
Paper Wallet
These documents contain a public cryptocurrency address and a private key for receiving and spending Bitcoins or Altcoins. In the form of QR codes, you can print these codes on paper and scan the same to make the transactions. Different paper wallet service providers allow the creation of random crypto addresses, each having its private keys. Some paper wallet providers offer tamper-proof designs for strengthening the security meter. It is all-important to note here that these paper wallets need to be better suited for transmitting funds partially. The offline nature of paper wallets makes them completely protected from malware, viruses, and hacks.
Despite all these advantages, you need to check the paper wallet for any spyware that can break your computer's security threshold. After setting up the paper wallet, you need to ensure that the website code can run offline, allowing you to generate the keys even after disconnecting from the Internet. Once the paper has been printed, you can place/keep it in a sealed plastic folder, laminate it, or store it securely in a bank vault. The private key of your paper wallet shall have to be imported into a desktop wallet for transferring or spending partial funds. Doing this empties your paper wallet and stops further usage.
Hardware Wallet
You can keep/store your crypto keys in these physical, electronic devices without any internet connection. The hardware wallets use a random number generator to generate private and public keys. The most significant advantage of hardware wallets is the robust level of security, as it doesn't rely on an internet connection. It protects your Bitcoin and Altcoin funds and assets from viruses and other online threats. By setting a PIN code, you can also keep your funds buffered from malicious hackers. If the hardware wallet falls into the wrong hands, you can still recover your funds by creating a recovery phrase or backup code in advance.
Hardware wallets are the perfect choice for people who wish to keep their digital assets secure without dealing with the nitty-gritty of crypto trading software. Certain cryptocurrency exchange India allows connecting the hardware wallet to a crypto currency trading platform to add an extra layer of security to your transactions. It's best to purchase a cryptocurrency hardware wallet from a trustworthy manufacturer to secure your funds. You can take your pick amongst the four popular hardware wallet options Ledger Nano X, Ledger Nano S, Cobo Vault, Trezor, etc. These hardware wallets have a considerable demand, leading to a waiting period of around two months.
While you can avail of hardware cold wallets for less than $100, you can also opt for the pricier models if you need them. Mostly, the security features for all the models are the same. However, the pricier ones might come with a Bluetooth and touchscreen interface for greater ease of use. A hardware wallet can host multiple crypto wallets like Bitcoin, Ethereum, Cardano, XRP, and NEO. It takes a few seconds to install a new wallet on your hardware device, which is a substantial improvement over its software cold storage peers, wherein you need to create a new wallet for every coin.
Desktop Wallets
They are installable software packs compatible with standard desktop operating systems like Windows, Mac, and Linux. However, desktops or laptops are often connected to the Internet, and thus, you need to adhere to stringent security measures like a strong firewall, anti-malware software, and antivirus. Some of the popular desktop wallets for storing top cryptocurrency India are Bitcoin Core, Exodus, Jaxx's Chrome Extension, and Electrum.
USB Drive
One of the most accessible means of cold storing crypto coins is using a USB drive which allows the export of private keys. However, this method could be more secure, as your digital assets can be accessed by anyone having access to your USB drives.
Final Words
Crypto professionals, experts, and Bitcoin investors steadily promote the usage of cold wallets, given their top-notch security attributes. Since they are not connected to the Internet, all chances of hacking, virus, and malware threats also diminish.
Visit us at: www.bitcoiva.com