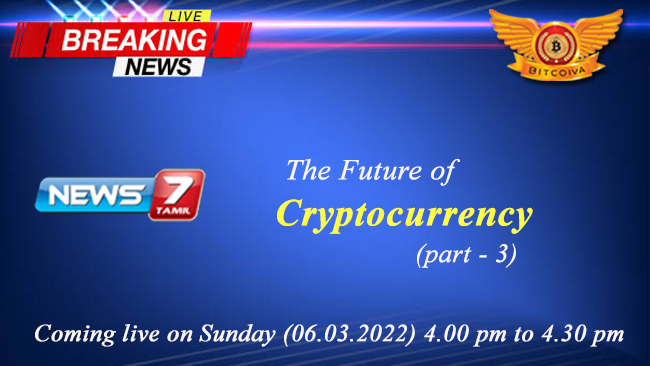 Mr. Sibhi Chakkarawarthy Mohan, COO of Bitcoiva, will appear live on News7 Tamil on Sunday, March 06, 2022, from 4.00 p.m. to 4.30 p.m. He'll share some intriguing information on the "Future of cryptocurrency". He'll go through how to invest in cryptocurrency, where to put your money, and which currencies will provide you the highest returns.
Bitcoiva, founded in June 2020, is one of the most well-developed, biggest, and safest cryptocurrency trading platforms available. Bitcoiva.com is a cutting-edge cryptocurrency trading platform that allows for a variety of transactions including Fiat to Crypto, Crypto to Crypto, and direct buys. You may trade over 170+ different cryptocurrencies and 560 distinct pairings on bitcoiva. The BCA token, which is Bitcoiva's own currency, has a volume of 21 million. To protect their accounts, users can utilize email as two-factor authentication.
This interview is a follow-up to two previous interviews that aired on News7 Tamil at 4.30 p.m. on Sunday, June 2, 2022, and February 20, 2022, from 4 p.m. to 5 p.m. In these interviews, He discussed cryptocurrencies and their growth in the market, as well as answered all of the viewers' questions.
If you missed the earlier interview, you may watch it on the bitcoiva YouTube channel:
Don't miss this wonderful opportunity to call and clear all your doubts and concerns about cryptocurrency.
Call toll-free number: 18002020130
Get registered here for More offers and Benefits :https://www.bitcoiva.com/register/22102147
Visit us on: www.bitcoiva.com