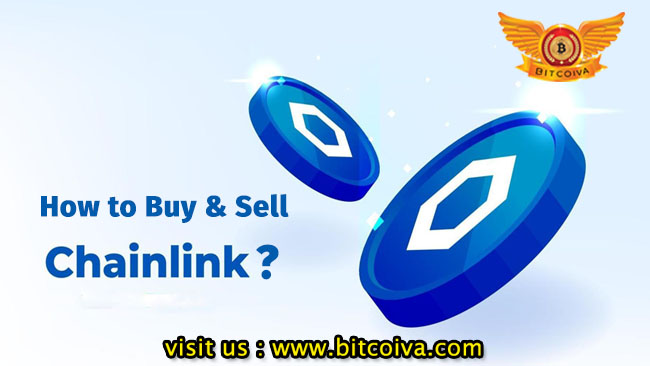 To sell and buy cryptocurrency in India, the first and foremost step is create an account with us in bitcoiva here:  https://www.bitcoiva.com/register/22102147
Once you have registered to Bitcoiva you can login to it and can trade whenever and wherever you want here:  https://bitcoiva.com/login
To buy and sell and trade LINK Token in Bitcoiva crypto exchange India:
To trade INR: https://www.bitcoiva.com/trade/LINK_INR
To trade USDT: https://www.bitcoiva.com/trade/LINK_USDT
An overview on LINK Token:
Chainlink is a blockchain abstraction layer that allows smart contracts to be globally connected. It was established in 2017. Chainlink is a decentralized oracle network that allows blockchains to securely interface with external data feeds, events, and payment methods, allowing intricate smart contracts to become the dominant form of digital agreement.
The Chainlink Network is powered by a large open-source community of data providers, node operators, smart contract developers, researchers, security auditors, and others. The firm is working to ensure that all node operators and users who wish to contribute to the network may do so in a decentralized manner. Who Are the Founders of Chainlink?
Chainlink Labs' CEO and co-founder is Sergey Nazarov. He earned a bachelor's degree in business administration with a specialization in philosophy and administration from New York University. He began his professional career as a teaching fellow at the Stern School of Business at New York University. ExistLocal, a peer-to-peer cryptocurrency market for real local experiences, was co-founded by Nazarov in 2009.
Chainlink was one of the first networks that allow smart contracts to leverage off-chain data. Chainlink is a major player in the data processing industry, with a huge number of trustworthy partners. Due to its integration of off-chain data, Chainlink has attracted the attention of a number of respected data providers, including Brave New Coin, Alpha Vantage, and Huobi. Data providers can offer data access to Chainlink directly, allowing them to monetize their data.
Chainlink, as a decentralized network, allows people to become node operators and earn money by operating key data infrastructure necessary for the operation of blockchains. Chainlink employs a large number of node operators to support a variety of decentralized Price Feed oracle networks that are presently in operation, securing billions of dollars for top DeFi applications such as Synthetix, Aave, Compound, and others.
Get registered here for More offers and Benefits :https://www.bitcoiva.com/register/22102147
Visit us at: www.bitcoiva.com