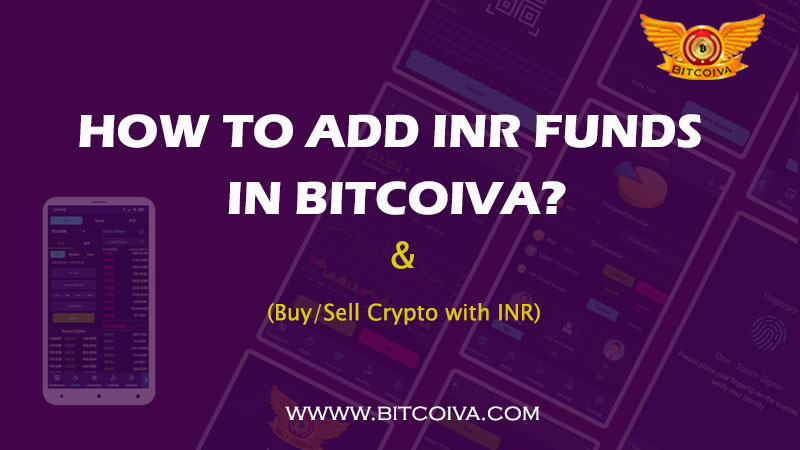 Bitcoiva is the most secure crypto app India for beginners. You can deposit, withdraw, or buy 100+ cryptos in INR (Indian Rupees). By using several payment methods on the BITCOIVA crypto investment app, including IMPS, UPI, or Bank Transfer. In this article we'll see how to add INR Funds in Bitcoiva
One of the greatest crypto currency trading platform, Bitcoiva launched in June 2020 and is a licensed cryptocurrency exchange platform. It is among the biggest, fastest-growing, and safest platforms for trading cryptocurrencies. A modern cryptocurrency trading platform that accepts a variety of transactions is called Bitcoiva.com. such as direct buys, Fiat to Crypto, and Crypto to Crypto. More than 170 distinct crypto currencies are supported by Bitcoiva, which also provides 560 unique trade pairs. The BCA token, Bitcoiva's own currency, has a 21 million volume.
Users can protect their accounts by using email for two-factor authentication. Bitcoiva is incredibly user-friendly for beginners. The Bitcoiva app offers a quick and easy bitcoin trading environment that is user-friendly. It provides the best tools for learning about trading for novices. And many more improved offers, such as top trading software and strong liquidity. For their traders, it makes spot trading and futures trading easier. In this article we'll see how to add INR Funds to Bitcoiva.
How Do I Install INR Funds in Bitcoiva via Bank Transfer (NEFT/RTGS)?
Choose the amount you want to transfer to your BITCOIVA wallet after clicking 'Add Funds' on the HomePage. 'Continue to Pay' should selected.
Note: Meanwhile complete your KYC .
1 : In order to proceed, select 'Bank Transfer' and click 'Continue.' INR funds should add to your BITCOIVA wallet.
2: Login to your NetBanking Account or open any Net Banking app and also copy the information provided below.
3: In your net banking app, go to 'Add Payee.'
4: Enter the payee information. Copy the bank account information from Step 2 (on the BITCOIVA App Transfer Page), and then click Confirm.
5: Once you are added. Transfer the same amount of money as you specify in Step 1. And also, don't forget to include your cryptocurrency exchange India BITCOIVA registered mobile number in the remarks section.
6: Confirm the transaction and make a note of the Transaction ID Reference Number.
7: Copy and paste your Reference Number into the Transaction ID field.
8: As a result within 12 hours, your INR funds will be add to your BITCOIVA account.
BITCOIVA is concerned about the security of your crypto assets. Simply complete your KYC. Use the user-friendly dashboard to create a crypto watchlist. Also, Learn about the Crypto Investment Plan feature, set price alerts, and view real-time charts, prices, and more! Enjoy smooth money transfers and keep an eye out for new tokens that are added to the BITCOIVA app.
Visit us on: www.bitcoiva.com