What Exactly is Bitcoin
You may directly buy, trade, and exchange bitcoin without the need for a middleman like a bank. This digital currency decentralized. The idea of "an electronic payment system based on cryptographic proof instead of trust" initially put out by Satoshi Nakamoto, the person who created Bitcoin.
Bitcoin transactions are difficult to reverse and challenging to forge since every single transaction ever performed recorded on a public ledger that is available to everyone. That planned: Bitcoins' decentralized nature exemplified by the fact that they neither guaranteed by a government nor an issuing body, and that their worth only guaranteed by the system's inherent evidence.
According to Anton Mozgovoy, co-founder and CEO of digital financial services firm Holyheld, "The reason why it's worth money is simply that we, as individuals, decided it had value—same as gold."
Bitcoin's value has significantly increased since its initial public release in 2009. In spite of once selling for less than $150 per coin, as of June 8, 1 BTC is equivalent to roughly $30,200. Many anticipate that because there are only 21 million coins available, its price will only increase over time. This is especially true as more significant institutional investors start to use it as a form of digital gold to protect against inflation and market volatility. There are currently more than 19 million coins in use.
How Does Bitcoin Work
A blockchain is a distributed digital ledger that serves as the foundation of bitcoin. As its name suggests, a blockchain a network of interconnected data made up of units called blocks. That each contain details about a single transaction, such as the date and time, the total amount, the buyer and seller, and a special identification number for each trade. A digital chain of blocks created by connecting entries chronologically.
According to Stacey Harris, consultant for Pelicoin, a network of cryptocurrency ATMs, "Once a block added to the blockchain, it becomes accessible to anybody who desires to examine it, operating as a public log of cryptocurrency transactions."
Bitcoin as Payment
Blockchain decentralized, thus no single entity has power over it. According to Buchi Okoro, CEO and co-founder of African cryptocurrency exchange Quidax, "It's like a Google Doc that anyone can collaborate on." Everyone with a link can add to it, but no one owns it. Additionally, your copy updated when changed by other users.
Although it may seem dangerous that anyone might alter the blockchain, this is exactly what makes Bitcoin reliable and safe. A majority of Bitcoin holders must confirm a transaction block before added to the blockchain. Additionally, the unique codes used to identify users' wallets and transactions must follow the correct encryption pattern.
These codes are lengthy, random numbers, which makes it very challenging to manufacture them falsely. The likelihood that anyone might make fraudulent Bitcoin transactions significantly decreased by the quantity of statistical unpredictability in the blockchain verification codes, which required for every transaction.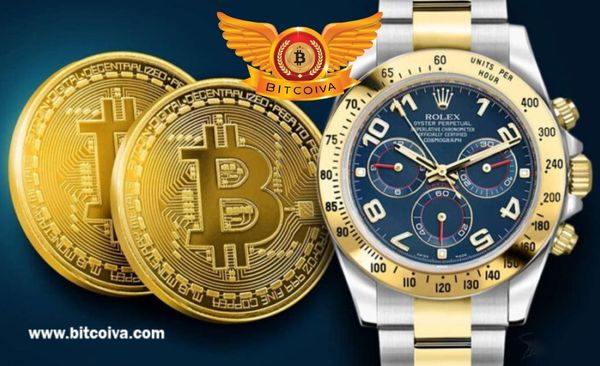 Bitcoin as Payment
Breitling, a High-end Watchmaker, now Accepts Bitcoin Payments
The bitcoin payment services provider BitPay and the Swiss watchmaker collaborated to make the new payment option available in their online store.
Luxury watchmaker @Breitling now takes cryptocurrency! We pleased to work with you to offer new payment choices to your consumers. Welcome to #BitPay," BitPay tweeted on Tuesday morning.
Léon Breitling, who was 24 years old when he founded Breitling, opened the company's first atelier in Saint-Imier, Switzerland, in the midst of a recession in 1884. It has since become known as one of the nation's most well-liked watchmakers. The brand sold to the private equity company CVC Capital Partners in 2017.
Through BitPay's integration with the manufacturer's website, buyers interested in purchasing Breitling watches may do so using bitcoin right now, both on-chain and on Lightning.
Bitcoin as Payment
Breitling joins a slew of high-end companies that have recently jumped on the Bitcoin bandwagon as the game theoretic side of bitcoin adoption starts to take shape.
Luxury online shopping this year, Farfetch, Gucci, Balenciaga, and watchmakers TAG Heuer and Hublot said they would accept bitcoin as a form of payment.
A player is betting on letting clients utilize their bitcoin for purchases without having to sell their holdings, but the automotive business has also experienced an increase in the acceptance of bitcoin as payment. Last year, Post Oak Motor Cars, a Houston-based company, integrated native Bitcoin services with NYDIG, allowing consumers to buy premium cars with bitcoin-backed financing.
Reputable companies are planning to take advantage of the network's explosive expansion by providing Bitcoin users with offerings as the Bitcoin ecosystem develops and usage rises despite the currency's high price. Consumers can be given additional opportunities as the market develops, and brands and retailers can get greater value as well.
How Does a Payment Gateway for Cryptocurrencies Operate?
Payment gateways are businesses that use their wallet(s) to enable transactions between merchants and their consumers while taking on the perceived risk of cryptocurrency payments.
Payment Stream
The workflow described below is carried out in steps:
At the checkout, your consumer chooses to pay using cryptocurrencies.
They pay you the fair market value of the digital currency at the moment of the transaction.
The payment is instantaneously converted into the currency of your choice by the bitcoin payment service.
The funds are added to your provider account and deposited into your chosen bank account at predetermined intervals as specified in your service agreement.
Visit us: www.bitcoiva.com