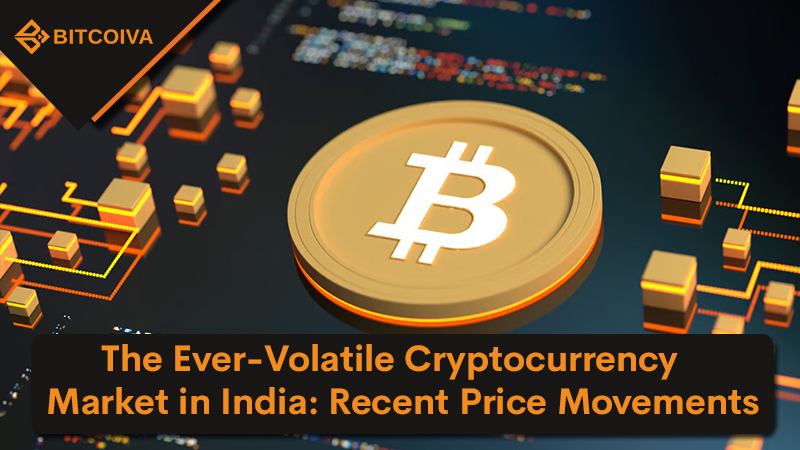 The cryptocurrency market in India is known for its unpredictable nature, with prices of vital digital assets experiencing significant fluctuations. In this article, we will delve into the recent price movements of Bitcoin (BTC) and Ethereum (ETH) and analyze the market indicators to gain insights into the current state of the crypto market. Let's explore the exciting world of cryptocurrencies and understand the factors driving their price changes.
Table of Contents
Introduction
The cryptocurrency market is a dynamic and ever-evolving space that attracts investors and enthusiasts alike. The market has recently witnessed significant price movements in India, particularly in Bitcoin and Ethereum. Understanding these price fluctuations and analyzing market indicators can provide valuable insights for individuals interested in cryptocurrency investments.
Bitcoin's Price Movement
The flagship cryptocurrency currently holds a value of $30,730.54, reflecting a commendable surge of nearly 0.62% in the past hour. Over the last 24 hours, BTC has experienced a respectable increase of 1.73%, while its 7-day performance exhibits an upward trend of 2.21%. These price movements indicate a positive momentum for Bitcoin in the market.
Ethereum's Performance
As the second-largest cryptocurrency, Ethereum is crucial in the crypto market. ETH trades at $1,867.56, showcasing an impressive upswing of approximately 0.88% within the last hour. Over the past 24 hours, ETH has seen a moderate rise of 1.65%. However, its performance in the previous seven days has faced a slight setback, with a decline of 0.77%.
Market Indicators Analysis
We analyze various market indicators to understand the cryptocurrency market comprehensively. The Exponential Moving Average (EMA) for both 10-day and 200-day intervals signals a favorable "Buy" sentiment, with values at 29,935 and 25,850, respectively. The Simple Moving Average (SMA) for 10-day and 200-day intervals also suggests a promising "Buy" sentiment, with corresponding figures at 30,383 and 24,651. These strong indications from the moving averages underscore a positive outlook for the market.
Technical Indicators Overview
Examining other technical indicators, the Ichimoku Base Line, an essential indicator, maintains a prolonged "Neutral" sentiment, currently valued at 28,107. On the other hand, the Hull Moving Average presents a compelling "Buy" signal at 30,441. The Volume Weighted Moving Average (VWMA) also records a bullish "Buy" signal at 28,529.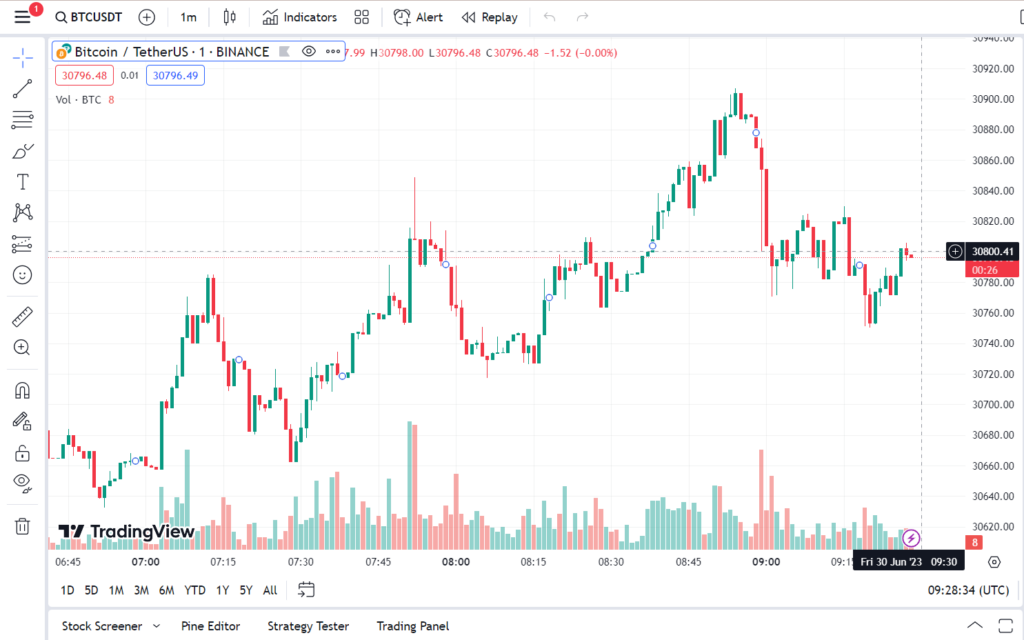 As for significant market oscillators, they exhibit a cautious "Neutral" sentiment. The Relative Strength Index (RSI), a crucial indicator, currently stands at 67, displaying a neutral outlook. The Stochastic %K and the Average Directional Index (ADI) record values of 83 and 36 further confirm the market's "Neutral" stance.
The Indian Cryptocurrency Exchange
Shifting our focus to the Indian cryptocurrency exchange, we find that Bitcoin's current price is ₹26,38,009 as of 10:00 AM, June 30th, 2023. Notably, there has been a significant surge of approximately 1.41% within the last hour and a corresponding increase of 1.41% over the past 24 hours. Bitcoin's performance over the previous seven days showcased an upward movement of 1.03%.
Ethereum (ETH) is presently valued at ₹1,59,609, registering a slight decline of 0.6% in the last hour. Over the past 24 hours, ETH observed a modest increase of 0.38%. However, its 7-day performance encountered a minor setback with a decline of 1.48%.
Top Gainers and Underperforming Tokens
Among the top gainers on the market, Bitcoin Cash (BCH), and Compound (COMP) stand out with impressive price surges of 30.93%, 28.7%, and 28.45%, respectively. These significant gains highlight the potential for profitable investments in the cryptocurrency market.
On the flip side, some tokens have experienced price decreases. Ardor (ARDR), Orchid (OXT), and IDEX (IDEX) have witnessed price decreases of 12.46%, 11.26%, and 9.93%, respectively. It's crucial for investors to carefully assess the performance and potential of various tokens before making investment decisions.
Notable Updates in Shiba Inu and Dogecoin
Important updates can also be found in Shiba Inu (SHIB) and Dogecoin (DOGE). SHIB witnessed a notable price increase of 2.36%, currently trading at ₹0.000650. Similarly, DOGE saw a rise of 2.55%, with its current price at ₹5.5890. These developments in SHIB and DOGE showcase the ever-evolving cryptocurrency market dynamics.
Conclusion
In conclusion, the cryptocurrency market in India is experiencing substantial price movements in key digital assets. Bitcoin and Ethereum, the leading cryptocurrencies, have demonstrated significant price fluctuations. The diverse range of indicators and market oscillators, coupled with the surge in various cryptocurrencies, contributes to the complex and intriguing nature of the crypto landscape. Investors and enthusiasts eagerly monitor these developments as they navigate the exciting world of digital currencies.
Visit us at: www.bitcoiva.com