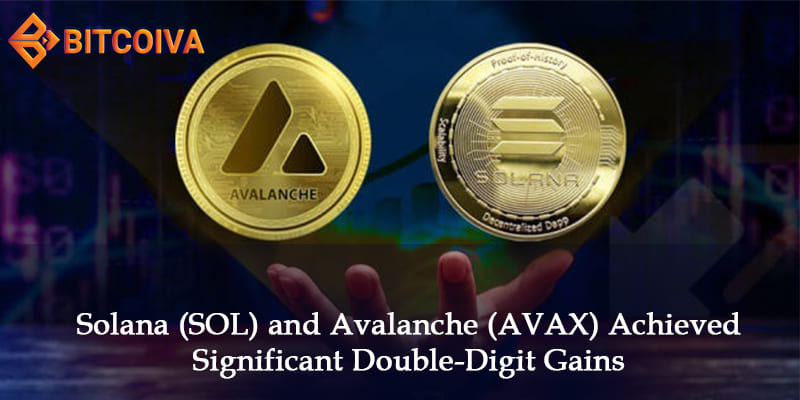 On November 15, 2023, many altcoins cryptocurrencies performed a substantial gain alongside bitcoin (BTC). Bitcoin was priced at $37,453, which reached an intraday peak of $37,400. The altcoins Solana's SOL at $65 and Avalanche's AVAX at $22.67 exhibit double-digit gains this week and chase a new high this year.
The sustained upward movement of the altcoin price led analysts to announce that it is time for an altcoin season. The total altcoin market currently hits a 2023 high of $659.5 billion. These price surges result from a variety of factors, including sentiment analysis and project fundamentals.
Let's explore the SOL, AVAX, and top-performing altcoins in the top Crypto trading platform this month.
Avalanche's AVAX
Avalanche's AVAX reaches a new high of $2.84 this year, a double-digit high from October. AVAX has exceeded 59% in the last week and has had an impressive growth rate of over 118% in the past 30 days. But still, it is 7x below its ATH of $147 in Bitcoiva, the best crypto trading app in India.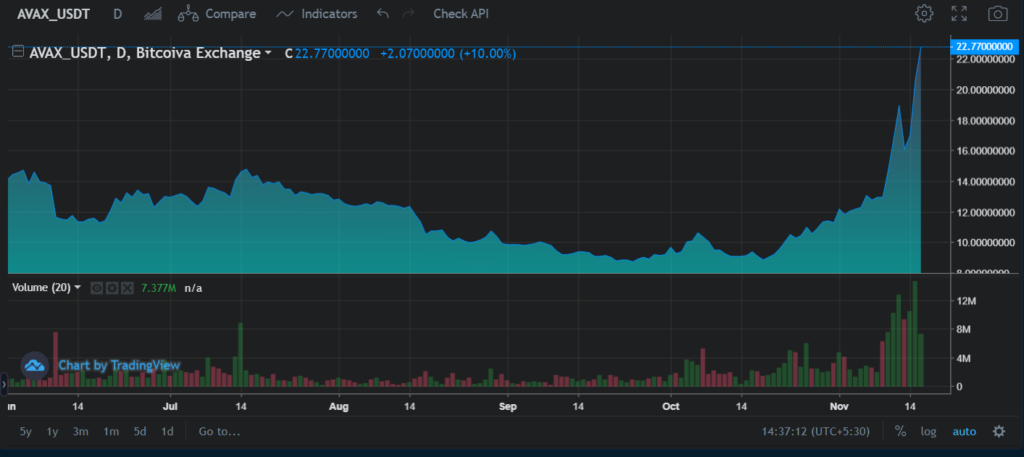 Avalanche (AVAX) operates on the Avalanche platform, which is a decentralized platform designed for both custom blockchain networks and applications. AVAX secures the platform and performs various activities, which act as a native token in the network.
One of the main features of Avalanche is its consensus mechanism. The avalanche consensus mechanism provides fast, secure, and performs highly scalable transactions. Avalanche is suitable for a wide range of DApps and financial protocols. Crypto enthusiasts closely monitor AVAX for its technology advancements, partnership, and overall adoption rates within the decentralized finance (DeFi) and crypto space. The price fluctuations of AVAX are impacted by any cryptocurrency updates, market conditions, broader industry trends, development updates, and overall market performance.
Solana's SOL
Solana's SOL token has exhibited an impressive 30-day return, soaring by more than 166%. Even though it reached a peak in 2023 on November 10. The current price of Solana is $68, but it is still more than four times below its historical high of $259.96. This performance showcases the recent strength in Solana's market activity and the potential for further growth as it surpasses previous record levels. In Bitcoiva, the best crypto exchange platform in India, the current price of Sol is $67.3, and it attained an ATH of $259 in Nov 2021.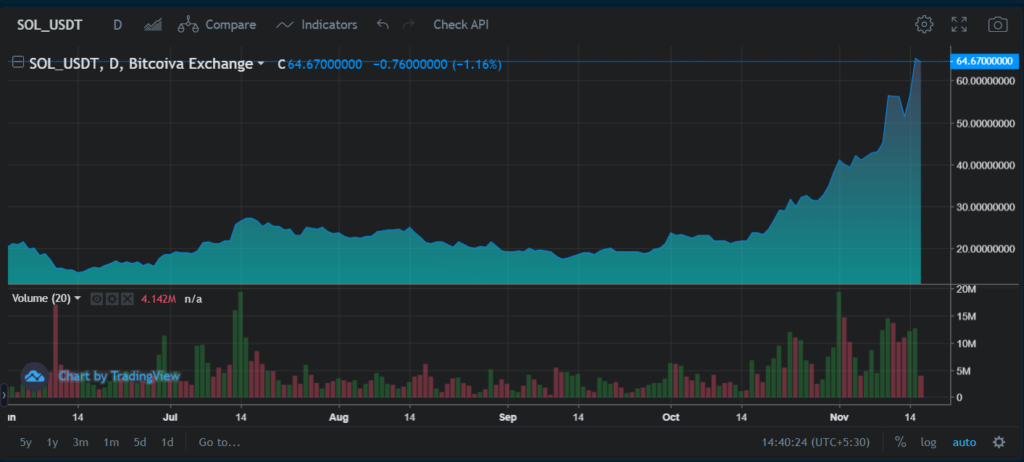 Solana (SOL) stands out as a major cryptocurrency operating on its blockchain and has gained more attention from analysts and traders for its exceptional performance and technological innovation. Due to its scalability, Solana has become a preferred platform for developers seeking high-speed and cost-effective solutions for decentralized applications (DApps) and smart contracts.
It has a unique consensus mechanism, the Proof of History (PoH), in which the blockchain timestamps transactions before their inclusion in a block. Thus, it boosts the overall efficiency of the network, and this approach substantially diminishes confirmation times. Solana's PoH stands as a key technological feature and maintains a fast and streamlined experience for users and developers within the blockchain ecosystem.
Solana has seen the emergence of various successful DApps spanning decentralized finance (DeFi) and non-fungible tokens (NFTs) with a robust ecosystem. Solana has demonstrated remarkable market performance, attracting investors and developers in recent times. Thus, the growth has contributed to Solana's rise in market capitalization and captured the position of top cryptocurrency. The Solana community continues to expand and collaborates with innovative projects and applications.
Solana's impact extends beyond its native cryptocurrency in the blockchain space. SOL has symbolized the blockchain's potential to provide scalable and efficient solutions for the decentralized future. The ongoing developments within the Solana ecosystem and its positive market performance underscore its role as a key player in shaping the landscape of blockchain technology and decentralized applications.
Visit Us At: www.bitcoiva.com