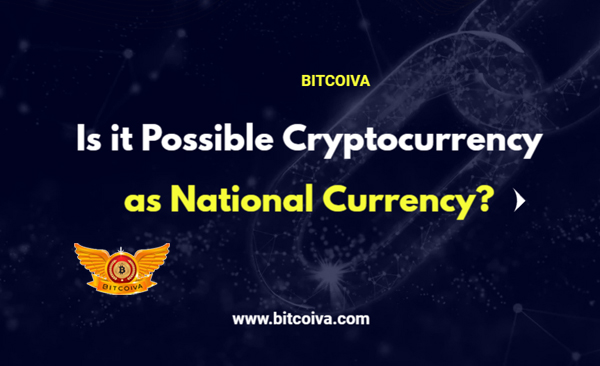 Cryptocurrencies are digital assets that function as distributed ledgers or blockchain. They are a relatively new type of money that could revolutionize both governments and corporations. But can cryptocurrencies compete with fiat currencies like the US Dollar and become national currency?
Cryptocurrency as National Currency
Cryptocurrency gained more recognition from many countries. Even though they are becoming more popular there are few countries that don't stand in favor of cryptocurrency.
However, this does not prevent government authorities from recognizing that cryptocurrencies can speed up payments at a very low cost and promote social and economic development in underdeveloped nations by giving individuals the means to increase their wealth.
Although it may appear like adopting cryptocurrencies as a national currency is the best course for the future, there are significant hazards associated with this that governments and other participants in the crypto ecosystem have not yet addressed.
Although it has been existed for more than ten years, there is very little regulation of the cryptocurrency market, which is exceedingly volatile. It is feasible to use cryptocurrency as a national currency, but doing so in its current form comes with many difficulties and dangers.
5 Cryptocurrencies that Have Historically Served as National Currencies
Having said that, there have been a few initiatives by governments to make cryptocurrencies a legal tender. The following coins were suggested as potential national currencies:
Icelandic – Auroracoin
The 2014 debut of Auroracoin (AUR), a P2P cryptocurrency, was intended to displace the króna, the national currency of Iceland. To this day, the creator's identity is a mystery. In order to get over the Icelandic government's limits on the national currency, Auroracoin's developer intended for it to be issued to all 330,000 individuals listed in the country's national ID database.
Icelanders received Auroracoin by airdrop, and beyond that point, the only method to obtain it was by joining an Auroracoin mining pool. After many government officials referred to Auroracoin as a "illegal financial hoax," its stock fell.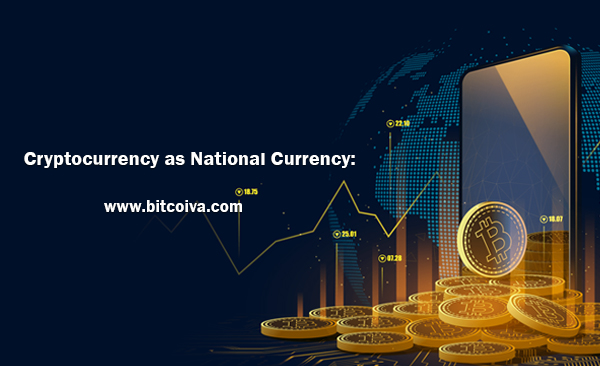 North American – MazaCoin
Payu Harris developed MazaCoin to give Native Americans more choice over the direction of their economic development. The coin's market cap reached $6.8 million at the time of its launch in 2014, but it quickly dropped as a result of what Harris refers to as "controversial coverage."
Harris sought to establish a "vibrant, complete monetary policy" for native people by establishing a national currency for them, but his efforts fell on deaf ears among the very community he was trying to assist.
Japan – MUFG Coin
The largest bank in Japan, MUFG, set out to develop a stablecoin that would be correlated to the Japanese Yen in 2016. The bank conducted certain tests through one of its subsidiaries, Kabu.com Securities Co, and awarded the staff members who maintained excellent health with a cryptocurrency dubbed "OOIRI."
The coin could be used for purchases through the "Z-Wallet" app. It's unclear what happened to the MUFG Coin project or whether it's connected to some of the bank's more recent blockchain payment endeavors.
Spain – Spaincoin
In order to provide residents of Spain with a lightweight version of Bitcoin, Spaincoin (SPA) was established in 2014. There were 50 million coins in circulation for Spaincoin, of which 50 million were pre-mined and distributed to Spaniards. It is evident from the coin's current price of $0.0001 that the project did not turn out as its designers had hoped.
Spaincoin is a cryptocurrency about which little is known, and its official website no longer functions, making it difficult to speculate as to what happened to it.
Worldcoin
Worldcoin is a cryptocurrency that Sam Altman and Alex Blania created with the goal of giving it away for free to everyone on the earth. Making users prove they're not a bot and they haven't already claimed their part of Worldcoin without violating their privacy is one of the biggest issues the team has encountered, as emphasized on their blog. The team created "Orb," a biometric device, to solve this issue.
By capturing a photo of a person's eyes and translating it into encrypted data, Orb can tell if they have already registered. The photos won't be saved or uploaded anywhere, and no personal information will be needed in order to safeguard users' privacy. The ICO for Worldcoin is anticipated to begin later this year.
In conclusion, Bitcoin has already been approved as the official currency of El Salvador and the Central African Republic, but it's highly doubtful that additional nations will do the same any time soon. Cryptocurrency has the potential to support economies around the world and promote global financial inclusion, but given the status of the market today, the dangers associated with making it a national currency outweigh the benefits.
There isn't much regulation on the market, and there is no way to control its volatility. The fact that the coins discussed in this article failed to succeed shows that most governments aren't yet ready to adopt cryptocurrencies as their official unit of account. But given how quickly Bitcoin and other cryptocurrencies are being adopted, it's not implausible to think that someday soon it would be viable to utilize a cryptocurrency as a national currency.
Visit us : www.bitcoiva.com