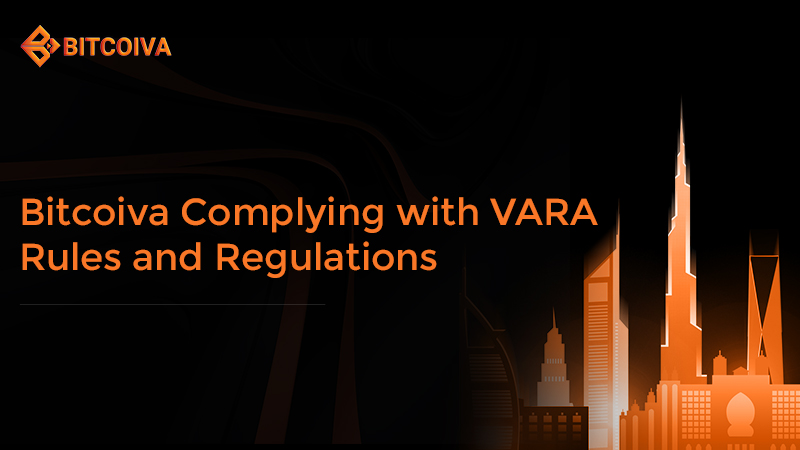 The United Arab Emirates (UAE) has become the worlds leading hub for crypto industry due to its progressive improvement in blockchain technology and innovation. The UAE has introduced the Virtual Asset and Regulatory Authority (VARA) as a part of the regulatory framework to govern the crypto currency rules and regulations. Bitcoiva, the best crypto exchange complying with the VARA rules and regulations, which explores 118+ cryptocurrencies and supports various transactions of crypto to crypto, Fiat to crypto and direct purchase options. In this blog, we will explore the VARA rules and regulations for crypto in the UAE.
Virtual Asset and Regulatory Authority (VARA) was established as a part of the Dubai World Trade Centre Authority (DWTCA) on February 7, 2023 to regulate Virtual Asset Service Providers (VASPs) and virtual asset activities in Dubai. VARA 2023 introduced comprehensive rulebooks for VASPs to raise global capital markets standards in the virtual asset landscape in UAE.
Understanding VARA
The Virtual Asset and Regulatory Authority was established to govern the virtual assets and service providers in UAE. VARA's primary goal is to provide a secure and safe environment for crypto users and market integrity, which also prevents illegal financial activities.
Licensing and Registration
VARA provides a licensed registration for virtual assets or businesses operating within the UAE. So, the crypto exchanges in Dubai, wallet providers in Dubai, and others business services related with crypto must obtain the appropriate licenses. These licenses are designated to distinguish the trustworthy and potentially high risky entities within the crypto space.
Anti-Money Laundering (AML) and Counter-Terrorist Financing (CTF)
Virtual Asset and Regulatory Authority in Dubai has strict regulations on activities of Anti-Money Laundering (AML) and Counter-Terrorist Financing (CTF). Crypto currency exchanges in UAE must implement AML and CTF compliance programs, reporting suspicious activities, customer due diligence (CDD) procedures, and monitoring transactions.
Customer Protection
VARA has a strong focus on investor protection. It requires crypto currency platforms in UAE to have adequate cybersecurity measures, clear policies for customer funds and insurance for potential loses. Bitcoiva has prominently aims to secure the user's fund and strongly enhances trust in the crypto industry.
Asset Classification
VARA classifies the crypto assets and distinguishes each category such as cryptocurrency, security tokens and utility tokens. These classification tailors the framework to ensure the specific risk associated with each category.
Reporting and Compliance
Crypto business in UAE must compliance with the financial audits, monitoring mechanisms to maintain an operational crypto business. So, they must report their regular activities to VARA.
International Co-operation
The UAE recognizes the global nature of the crypto industry. It cooperates with international regulatory bodies and organizations to ensure the country's regulatory framework aligns with global best practices. This collaboration helps maintain the UAE's reputation as a responsible player in the crypto space.
Key highlights of the regulations
Compulsory Requirements for all VASPs
Scope and Applicability
The virtual asset activities for business purposes in Dubai is only permitted after theproper authorization from VARA, which mandates obtaining a specific no-objection confirmation from VARA. All virtual asset activities in Dubai must be complains with these regulations.
Marketing
Marketing, promotion, and advertising rules in Dubai apply to all entities that promote services within the Emirate. These regulations apply universally, whether or not VARA supervises them.
Enforcement and Fines
VARA has various enforcement measures to address non-compliance with laws and regulations. These actions include imposing fines or other civil penalties. The penalties vary, with fines of up to 20 million AED for individuals, up to 50 million AED or 15% of annual revenue for Virtual Asset Service Providers (VASPs), and penalties of up to 300% of avoided profits or losses.
Prudential Requirements
Dubai's regulations outline prudential requirements, specifying minimum initial and ongoing paid-in capital criteria. These requirements vary, ranging from 100,000 AED to 1.5 million AED, or 25% of fixed annual overheads per virtual asset activity. Additionally, regulations govern net liquid and reserve assets to ensure financial stability. Adherence to these prudential requirements is critical for entities involved in virtual asset activities in Dubai.
Company
VARA outlines rigorous organizational requirements, covering aspects such as the Board and Senior Management, Fit and proper assessments, Corporate Governance, and Environmental and Social obligations. It encompasses mandatory and voluntary ESG (Environmental, Social, and Governance) disclosures.
Compliance & Risk
In the compliance and risk domain, VARA establishes detailed guidelines on various topics, including Anti-Money Laundering/Counter-Terrorist Financing (AML/CFT), Customer Due Diligence (CDD), record-keeping, transaction monitoring, and more. Specific rules are set for treating client money and Client Virtual Assets, mirroring international standards for client asset treatment in the securities sector.
Technology & Information
VARA introduces requirements for governance, controls, and security. It includes the critical safeguarding of cryptographic keys and the management of Virtual Asset Wallets. Moreover, it encompasses regulations for the use and protection of confidential information to ensure the security and integrity of virtual asset operations.
Market Conduct
To ensure consumer protection, VARA categorizes investors into Retail, Qualified, and Institutional segments, each subject to varying regulatory requirements and safeguards. Adherence to these standards is crucial for entities participating in virtual asset activities in Dubai.
Activity Specific Requirements
Advisory Services
VARA establishes engagement rules for advisors providing services in the virtual asset (VA) space. These guidelines include suitability questionnaires, requirements for advisory staff knowledge and training, and mandatory disclosures, ensuring transparency and professionalism.
Broker-Dealer Services
VARA outlines requirements for broker-dealer services, covering subjects like best execution, proprietary trading, margin trading, and specific prudential standards. These rules promote fair and responsible trading practices.
Custody Services
In a bid to attract large VA Custodians from other jurisdictions, VARA places a strong emphasis on the management of private keys for hot and cold wallets. These rules are pivotal for safeguarding digital assets.
Exchange Services
VARA focuses on regulating trading venues, allowing them to control access to virtual asset trading. These regulations provide guidelines for suspending market participants in cases of non-compliance, ensuring market integrity.
Lending and Borrowing
VARA's regulations address business conduct and risk management for virtual asset lenders. Specific requirements include reporting and valuation, record-keeping, risk management, due diligence, and disclosures, and promoting responsible lending and borrowing practices.
Management & Investment Services
VASPs offering management and investment services must provide detailed reports to clients on their virtual asset investments regularly. Additionally, the rules introduce new requirements for fee structures, client due diligence, and suitability assessments. Notably, this rulebook bans Payment For Order Flow (PFOF) related to virtual assets, enhancing transparency and fairness in virtual asset trading.
Conclusion
The UAE's VARA rules and regulations for crypto are a testament to the country's forward-thinking approach to technology and innovation. By fostering a secure and well-regulated environment, the UAE aims to attract global crypto players, stimulate economic growth, and protect the interests of investors and users.
Crypto businesses looking to operate in the UAE should familiarize themselves with VARA's regulations and requirements and consider consulting with legal experts to ensure compliance. The dynamic regulatory landscape in the UAE reflects its commitment to evolving with the fast-paced world of cryptocurrencies, making it an increasingly attractive destination for crypto entrepreneurs and investors.
Visit Us At: www.bitcoiva.com