To buy and sell and trade any cryptocurrency coin the first and foremost step is to create an account with us in bitcoiva here: https://bitcoiva.com/register
Once you have registered to Bitcoiva you can log in to it and can trade whenever and wherever you want here: https://bitcoiva.com/login
To buy and sell (celo coin) in Bitcoiva
Trade INR: https://bitcoiva.com/trade/CELO_INR
To trade USDT: https://bitcoiva.com/trade/CELO_USDT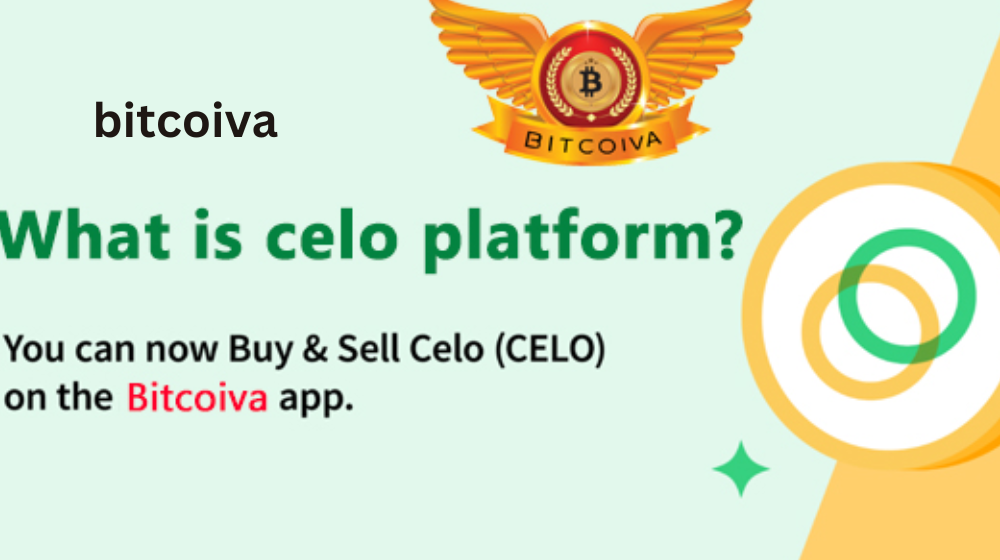 Overview on celo
Celo (CGLD) is an open-source Proof-of-Stake (PoS) blockchain for stablecoins and tokenized assets with an algorithmic reserve-backed stability mechanism. CGLD is a cryptocurrency that serves as the platform's utility and governance token. CGLD, meant to allow anybody with a smartphone to transmit, receive, and save CGLD-based stablecoins (such as the Celo Dollar) without the use of a crypto wallet.
Because the Celo network employs two native assets to administer and sustain the network, new cryptocurrency investors may find it difficult to comprehend its technology. The first, Celo Dollars (CUSD), a stablecoin used for transfer value. The value of the CUSD ties to the US dollar, which means it will seldom deviate from $1.
When you purchase and sell Celo on cryptocurrency exchanges, you're most likely investing in Celo Gold (CELO), the cryptocurrency's native token.
Celo Gold an ERC-20 token, which means it creates on the Ethereum network and runs on Ethereum's architecture. You buy the CELO token when you buy and sell Celo on services like Coinbase. Unlike CUSD, CELO fluctuates from day to day and minute to minute, based on the tokens' current market demand. CELO a validator token as well as a governance token that may be utilized in future staking projects.
How Celo operates

As previously indicated, Celo uses a user's telephone number to safeguard public keys. The related numbers are far more recognised than cryptocurrency public keys because the majority of people regularly use their cell phones.
The native asset supporting Celo is called CELO, and users can acquire it by "staking" their currencies to protect the network via the proof-of-stake algorithm. Cryptocurrencies require an underlying mechanism to hold the distributed networks together because there is no single authority figure in control. Proof-of-work usesin the first blockchain, which is Bitcoin. However, proof-of-stake has become a well-liked substitute since it is purportedly more environmentally friendly, despite the fact that some experts contend the algorithm has serious security weaknesses.
The Celo team also concentrated on stablecoins, and less volatile than many cryptocurrencies because to their link to the value of fiat currencies like the US dollar. Celo attempts to provide many of the advantages of cryptocurrencies without their volatility.
Since the U.S. dollar is pegged to the celo dollar (cUSD), Celo has a second important asset. In the Celo white paper, it explains how Celo stablecoins might also be linked to other global assets, such as the euro or oil barrels, which might be more appealing to some regional populations.
Management of important events

Rene Reinsberg and Marek Olszewski, two IT entrepreneurs, established Celo in 2017 and made it available to the general public in 2020.
As of December 2021, Jack Dorsey, the former CEO of Twitter, venture capital company Andreessen Horowitz (a16z), Coinbase Ventures, the investment arm of the Coinbase exchange, and other investors had contributed more than $65 million to Celo.
A16z joined Deutsche Telekom in June 2021 to stake Celo tokens. Additionally, Valora, a wallet based on Celo, raised $20 million under the leadership of A16z. There are 53,000 monthly customers from more than 100 different countries that use the mobile app to send payments and remittances over the Celo network.
visit us on: www.bitcoiva.com